Famous throughout the world, the natural cosmetics brand is no longer to be presented. As their name suggests, Occitane beauty creams mainly derive their active ingredients from the incredible virtues of the plants of Provence. A getaway in the Alpes de Haute-Provence, between the superb gorges of the Verdon and the Luberon National Park, offers a unique opportunity to discover the origins and manufacturing processes of this reference in cosmetics.
A unique experience at the origins of L'Occitane en Provence.
In the Provence,  nature provides us with all its qualities for the care of our skin. L'Occitane en Provence opens the doors of its gardens and factory to you in order to share this knowledge. It is located in Manosque, on the banks of the Durance, in this natural setting that has charmed the most famous writers. Come and discover all the secrets of oils, elixirs and ointments in a three-step tour.
First of all, the factory. Thanks to a guided tour through the laboratories, the production workshop, and the product packaging area, discover in all transparency the manufacturing processes of the famous treatments. You will enjoy an exciting itinerary, punctuated by sensory activities, to progress on the path of beauty inspired by nature.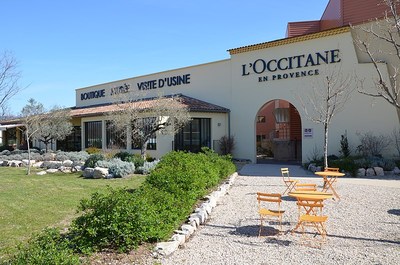 Then you will continue your visit in the direction of the museum. Through permanent and temporary exhibitions, discover the major stages that have led L'Occitane en Provence since 1976 to make "beauty, an art of living". Guided tours of the museum are available on request all year round, in French or English.
And finally, the garden! Escape for a walk among the wild species cultivated in this superb Mediterranean garden. Let each of your senses take you through the riches of this land that are the original inspiration for the beauty products of Occitane in Provence. Once again, a guided tour is available on request.
Discover Provence of L'Occitane during your visit to France!
With his passion for his native land and rich in knowledge of the plants that grow there, it was at the age of 23 that Olivier Baussan began to travel the markets of Provence to sell his rosemary essential oil. Distilled thanks to its old still, this essential oil today symbolizes the beginnings of a great adventure that would later be called L'Occitane en Provence.
You can follow in the footsteps of this pioneer of natural care "made in Provence" through many hikes or car trips. You will thus discover the places where the ingredients for beauty products come from.
For example, the lavender route of the Valensole plateau will offer you, from mid-June to mid-July, unforgettable landscapes of lavender oceans under a clear blue sky with heady scents. Don't miss the markets of Gréoux-Les-Bains and Forcalquier to feel the inspiring spirit of L'Occitane.
Many hikes in the Gorges du Verdon will also give you the chance to discover the essences used for essential oils in their natural setting. An excellent hobby during a walk with children! Try to recognize the cadets or almond trees, for example, in a breathtaking setting. To find hiking ideas adapted to your desires, find good advice on our Verdon Secret website!
The brand favors traceability and short circuits by trading with local producers. It announces strong respect for the environment and shows concern for the survival of species and ecosystems. The creation of these beauty products has never been elsewhere. Indeed, we find lavender and almonds of unequaled quality only in Provence.
Where is the factory of L'Occitane in Provence and how can I visit it?
Provence and the Riviera are well known with cities like Marseille, Aix en Provence or Nice. We are here a little further north, about an hour and a half from Marseille and two hours from Nice.
In France, the distances are short. You may be thinking of visiting L'Occitane in Provence and making a round trip in one day from Marseille or Nice. Let me tell you that this would be a mistake! You will pass by one of the most beautiful tourist sites in France.
The Valensole plateau with its lavender fields
First of all, the most beautiful lavender fields are located 20 minutes from L'Occitane. During the flowering season (between June 20 and July 20), it is essential to visit the Valensole plateau. Fields of lavender as far as the eye can see under the azure blue sky of Haute Provence! We offer tours of lavender fields with commentary in English, or even in Chinese: do not hesitate to contact us.
Finally, less than an hour away, you can discover the superb Gorges du Verdon.
The Gorges du Verdon, the largest canyon in Europe
While continuing your journey towards Moustiers Sainte-Marie, discover the Gorges du Verdon. Lakes St. Croix and Esparron are about 30 kilometers apart. A link on our map will allow you to better locate yourself in order to prepare your visit. The Gorges du Verdon can be visited by electric boat, canoe or even on foot. Hiking trails and swimming spots make it a paradise region still little known. Continue your visit on our Verdon Secret website and do not hesitate to contact us.
Where to sleep during your visit to L'Occitane in Provence?
If you are looking for a luxury hotel nearby, the Convent of the Minimes in Mane is about 30 minutes away. Always 30 minutes away, the Bastide de Moustiers is an absolute must. Our website offers a complete article on the hotels of the Verdon. Closer to Gréoux Les Bains, Hôtel des Alpes offers around twenty completely renovated rooms. Its restaurant and swimming pool will not disappoint you.
For groups, we offer visit programs to be consulted on our website in the group section.