Between two strolls in the Gorges du Verdon, take the time to come and taste the famous rosé wine of Pierrevert, quietly raised in a beautiful little region in the heart of wine-producing Provence. Take a break and come and taste, smell and experience the wine in this historic region. The ultimate Provencal rosé wine awaits you at Pierrevert, and it is, of course, the most famous that we come to taste. On the other hand, whether fans of more powerful or simply more structured wines are reassured, the Pierrevert winegrowers offer original blends, the fruit of their work and their research.
However, if you have a vehicle, allow a little space in the trunk … you will share your experience and your findings with your friends! You are right next to Manosque and at the gates of the Gorges du Verdon. So why not organize a cellar visit (a "wine tour") which will usefully complement your detour to L'Occitane en Provence?
Pierrevert, a great story of wine tasting
Even before the Romans, Pierrevert's wine was renowned, that is to say the greatness of Pierrevert's viticultural past. Julius Caesar himself would have come to discover the region and have a crush for its wine! However, the wine production, as we know it today, began in the 1920s thanks to Auguste Bastide. He brought together local winegrowers and founded the Coteaux de Pierrevert Wine and Agricultural Cooperative. The producers thus pool their means of production and together seek to publicize and market their wines, then intended for local consumption only. Thanks to their work, they obtained the classification of delimited wine of superior quality (VDQS) in 1959. Then, in 1998, it was the consecration for the terroir and the heritage of Pierrevert. The AOC "Coteaux de Pierrevert" was born. It will be simplified in 2010 in AOC "Pierrevert".
Since then and until today, the wine cooperative, which has been called Petra Viridis since 2011, is the only one in the whole department. Like its name "Roche Verte", chosen in homage to the Latin name of the village, this winery has the unique character of the old cooperative wineries that have helped forge the history of wine in France.
… and a great terroir of rosé wine!
The terroir of Pierrevert is a balanced synthesis between rich soils and a perfect climate. It's been masterfully held by the work of the winegrowers during generations. Optimal sunshine and especially land between 450 and 550 meters above sea level are the secrets of this very special terroir. The main grape varieties are Grenache noir and Syrah, alongside the classic Merlot and Cabernet Sauvignon, as well as the most typical Muscat of Hamburg and Vermentino.
Note that some winemakers have acquired organic certification! At Pierrevert, vineyards are cared for, without the help of pesticides or herbicides.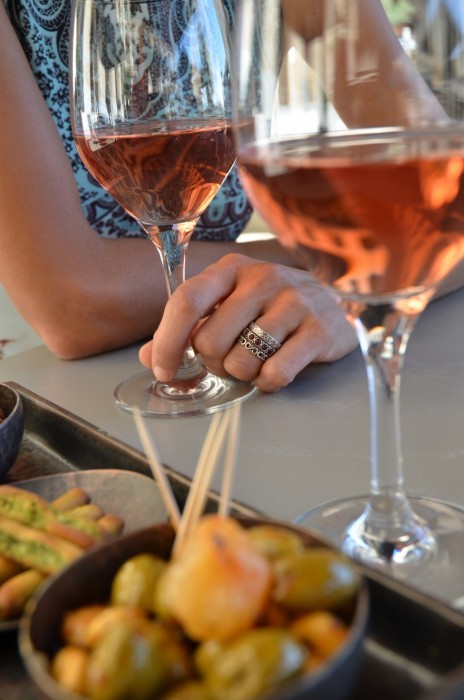 Rosé wines of Pierrevert
First of all, Pierrevert's wine production is abundant and diversified. We can take the time to discover wines worked very differently. Syrah, Grenache, and Vermentino are the main grape varieties planted on the hilly slopes of Pierrevert. Here, you are in the country of rosé wine. However, you must not forget the white wines and red wines. They are most often labeled IGP Alpes de Haute Provence or AOC Pierrevert. Red wines, for example, aged in oak barrels, become excellent powerful and robust aging wines. The only problem is to manage to hold 10 years before opening such good bottles!
As Petra Viridis put it so well, "The pleasure experienced in tasting our wines is the ultimate objective of all work." This pleasure, well accompanied by the characteristic freshness of Provencal rosé wines, we literally take advantage of each sip. Fruity and aromatic, they really present us with a unique character. Thanks to their well-studied flexibility, they can be drunk on many occasions and in association with many cuisines.
Where to eat?

Where to buy?
In order to discover Pierrevert wines, you must visit the Petra Viridis cooperative cellar. You can easily stay a few days in the surroundings. Why not spend breathing local air and enjoy a break in the Verdon Natural Park. The estates are in beautiful places, and you really want to take the time when you visit the region. So why deprive yourself? You will find below our recommendations on the areas to visit at all costs.
There is also a great opportunity to discover the vineyards in an accompanied way. The "winegrowers' trail" is a 4.5 km themed circuit which takes the form of a walk around Pierrevert. You can find more information on the site of the Southern Alps Management and Defense Organization in Pierrevert, which organizes these visits. You will learn amazing things about the work of the vine, as well as the different grape varieties and vintages while walking in this little corner of paradise.
Our best recommendations
Here is our selection of Pierrevert wines, a real range of flavors from the Provencal country. All the wines in this selection received a price for 2017 or previous years, an obvious sign of quality that has endured for a century!

Among the wines produced at the Petra Viridis cooperative winery, all medal winners this year, one can enjoy the "Village d'Or" and "Soleil" cuvées, both in AOC Pierrevert, as well as the Cuvée Saint-Patrice, protected under IGP Alpes de Haute Provence.
On the Domaine de Régusse side, we will gladly try Château Régusse, in a bright pink version or in powerful red, as well as "Jas des oliviers", a delicious white cultivated in organic farming. Le Fruité de Régusse will also delight you at the height of summer.
At Domaine de la Blaque , we will, of course, taste the very good "Réserve" rosé with pleasure. We will turn to the "Collection" series for a well-structured red, aged 18 months in oak barrels.
Going to Château Rousset , in addition to tasting the very good rosé and red wines of the estate, we will note the existence of a somewhat special cuvée, Vermentino. As its name suggests, it is produced almost exclusively from the "most beautiful white grape variety in Provence". Indeed, the freshness of the Alps brings an explosion of amazing aromas. Not to be missed if you want to discover this little-known grape variety.
Finally, at Château Saint-Jean Lez Durance , wine has been raised to an ever-higher level for five generations. You should taste the "Les Quatre Reines" rosé and try Les Vannades red. And of course, we will never get bored of tasting, again and again, the emblematic local cuvée called "Pimayon".
Conclusion
As conclusion, there is no need to wait for a rainy day to organize a cellar visit with a tasting of local specialties! contact us and we will suggest routes for you to do as a group or even during a business seminar.