Make reservations for all your activities in Verdon gorges and lakes
Hiking, canoeing, river rafting, museums… We are specialists of Verdon Gorges

Easy and quick reservations, by phone at 04.92.71.01.33 or online, 

easy cancellation and best prices guarantee.  



Browse our website and prepare your visit to the Gorges du Verdon.
You will find the most beautiful hikes, secret beaches for swimming, panoramic restaurants, museums
and you can even discover the most beautiful sites thanks to the film Verdon Secret 3D.
An interactive map guides you to easily find each activity.
Finally, do not hesitate to contact us on "Chat"! It's down on the right… We will be happy to help you.
Our objective: to share with you our passion for Verdon!
Film Verdon Secret in 3D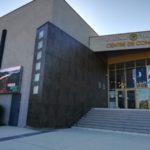 I saw the film Verdon Secret, beautiful drone pictures of the gorge, made me feel like doing to the Martel path again.
A film to see if you come to Gréoux.
Jean-Marc
24 October 2019
Marie
We did a boat tour, with a family picnic. The teens loved it, and us as well !
Marie
24 March 2019
Patrick
Wonderful scenery, I loved the Moustiers-ste-Marie village.
Patrick
1 July 2018
You wish to receive to receive information about our activities