The most beautiful hiking trails in France
It is true that France is famous for the diversity of its landscapes. But it is also famous for its hiking trails (called GR as Grande Randonnée). Of course, Provence is doing well with the Gorges du Verdon. Before detailing in this article some of the paths that have made the reputation of the Verdon, let's talk about the great Verdon hiking trail or great crossing of the Verdon.
Let's focus here on the last part of this legendary trail nicknamed the Great Verdon Hiking Trail. (GR4)
One of the most beautiful and emblematic sections of the famous GR4 hiking trail is the crossing of the Verdon Natural Park and its famous gorges. Get ready to walk on some magical stages, in the heart of a preserved area immersed in one of the wildest nature in France.
The great Verdon hiking trail in a few figures (also named GR4)
The GR4 starts at Royan in Charente-Maritime. Indeed, it crosses France diagonally from the Atlantic coast to Provence, and ends in Grasse, in the Alpes-Maritimes. GR 4 therefore crosses thirteen departments for almost 1500 km. It oscillates between the altitudes of 0 and 1912 m, and Mont Ventoux is the highest point of the route.
Approximately 35,000 metres of cumulative positive altitude difference, and 35,000 metres of negative altitude difference for the entire crossing…. Fortunately, here, we only talk about the Verdon! The numbers are much more attractive. The Verdon can be completed in six to ten stages, depending on the time you want to devote to it. Over a hundred kilometres, the GR4 crosses the Gorges du Verdon and takes you for a few days for a pure hike between wild nature and friendly villages.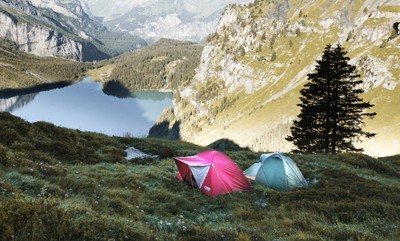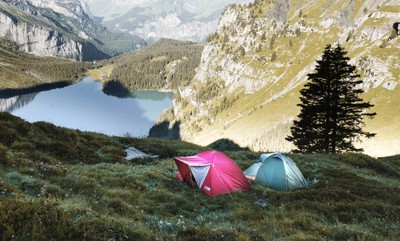 Join the GR4 in the Verdon
Depending on the time of year, the time available, and simply according to your desires, you can start the GR4 east or west of the Verdon Natural Park. On the east side, you will start in Castellane or Saint-André-les-Alpes while on the west side, you will start from Manosque, a very pleasant and practical starting point.
These two gateways to the Verdon region are easily accessible by car, and many buses reach the surrounding areas. In addition, you can of course arrive in Manosque by train, but also in Saint-André-les-Alpes! What a pleasure for a group of hikers to reach their starting point by train, and to start a walk of a few days in a mountain village! Moreover, Saint-André is already at an altitude of 900 m, it is perfect for a first day of walking!
You can also leave your vehicle at one of these two stations, cross the Verdon on foot, and take a train back to your vehicle. Practical!
In addition, the "train des Pignes" to Saint-André is a simply magnificent railway line. Get off the station in Saint-André-les-Alpes, and set off for the Verdon, this is certainly our favorite among all the possible departures!
A few words about the steps
The first day, we leave Saint-André-les-Alpes and follow the Lac de Castillon to reach La Baume after a beautiful 11 km day. The next day, the 24 km separating La Baume and Rougon, via Castellane, can be walked for one or two days, depending on your pace and your desires. After Rougon, we finally enter the Grand Canyon des gorges. Then, after crossing it, we reach La Palud-sur-Verdon after a magnificent 21 km day.
This stage is sometimes divided into two shorter stages, to take the time to fully enjoy the Gorges du Verdon. We can stop at the Chalet de la Maline. But we recommend that you arrive one evening in La Palud-sur-Verdon. Indeed, you will enjoy a very good restaurant and a relaxing night in this symbolic place, a real fiefdom of the Verdon.
Then, the next, no less surprising, stage links La Palud-sur-Verdon to Moustiers Sainte-Marie by overlooking the gorges for about fifteen splendid kilometres. After one night in Moustiers, you will continue your discoveries in the villages of Verdon in three or four days. You will walk towards Sainte-Croix, Monpezat, Quinson and the arrival in the Basses Gorges du Verdon will surprise you before reaching the majestic Lake Esparron. Finally, you will cross Saint-Martin-de-Brômes to reach Gréoux-les-Bains. And eventually you will slowly descend from your mountains to reach Manosque and find a well-deserved rest!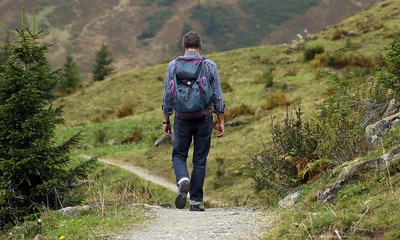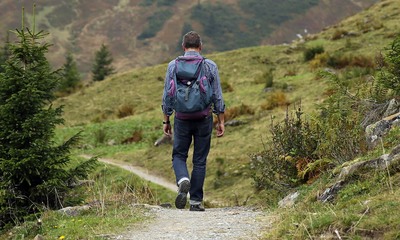 An example of a route from Saint-André-les-Alpes to Manosque
First stage: From Saint-André-les-Alpes to La Baume – 11 km
Second stage: From La Baume to Rougon – 24 km
Third stage: From Rougon to La Palud-sur-Verdon – 21 km
Fourth stage: From La Palud-sur-Verdon to Moustiers Sainte-Marie – 17 km
Fifth stage: From Moustiers Sainte-Marie to Montagnac-Monpezat – 20 km
Sixth stage: From Montagnac-Monpezat to Esparron-de-Verdon via Quinson – 20 km
Seventh stage: From Esparron-de-Verdon to Gréoux-les-Bains – 24 km
Eighth stage: From Gréoux-les-Bains to Manosque – 14 km
A day without walking? The unmissable activities of the Verdon
A day off? Is the weather uncertain? Don't you want to walk today? Well, here are some tips from Verdon Secret so that you can enjoy the experiences that the Verdon offers during your crossing by the GR4.
First of all, when you are in the heart of the Gorges du Verdon, you can easily put down your backpacks for a day and discover water sports such as canyoning, rafting or canoeing. Ask us for advice or look on our Activities page to give you ideas!
You will also follow the Lac de Castillon, one of the most beautiful and wildest lakes in the Verdon. Take the opportunity of a day to discover it, walk it on the water, or simply rest on it and recover from days of walking.
Finally, if you finish the route in Saint-André-les-Alpes, finish in beauty and fly away! Saint-André is indeed the capital of free flight in France. A first flight in paragliding will remain an unforgettable experience!
Restaurants along the Great Verdon Hiking trail
We detail in this site multiple restaurants in particular in our articles "Tips to visit the Verdon Gorges". Indeed, the pleasure of hiking is conceived in France with that of gastronomy. Thus, many itineraries go from restaurant to hotel. In short, discovering the landscapes will be your first motivation while gastronomy and tasting local wines will be your second. Here are a few restaurants along the way. The Auberge du Point Sublime in Rougon, the Bastide de Moustiers Sainte-Marie, the Hôtel des gorges in La Palud sur Verdon, the Crémaillère in Gréoux les Bains… We promise to complete the list. In the meantime, it's time for a hike!