You are about to book your next vacation in the lakes and gorges du Verdon. However, you want to make sure that you will be based in the right place to practice your favorite activities. Indeed, the territory is very vast and travel times are often quite long. Count an average speed of 30 km/hour with our winding roads! Canoeing, swimming, rafting, hiking, climbing, village visits … Depending on your favorite activities, journey times can be very long.
So where to stay in the Gorges du Verdon? This article will allow you to see more clearly …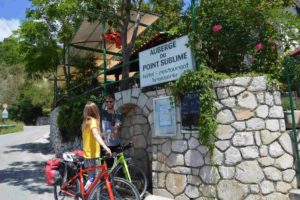 Gorges of the Verdon: campsite, hotel, rental … Where to stay close to the activities that interest me?
Several thousand people booked their activities on our website last summer.  Many also came to see us at Moustiers Sainte-Marie. How many times have I heard: "If I had known, I would not have chosen this place because we are too far away from the activities that we like the most". Of course, everything will depend on your tastes… If you are with your family and are more into swimming or quiet canoeing then the best choice is not the same as if you are more into rafting or canyoning. Verdon offers all these possibilities but not everything is in the same place!
If you want to find the best place to spend your holidays in order to reduce travel time depending on your activities, then this article is for you.
Canoeing, rafting, swimming, hiking…The map of activities to do in the Verdon
To help you locate the different activities on a map, we have created a map of the Gorges du Verdon.
By going to the map, you will be able to locate all the activities that interest you. This way you will be able to identify the best places to stay. To help you, we have listed below a list of addresses for easy booking. Camping or hotel, the choice is yours!
Gorges of the Verdon: where to stay if you prefer swimming or canoeing with your family?
The most beautiful places for swimming are not what you imagine. And especially not the best known. Thus, the lower gorges and the lake of Esparron are ideal for families with children. In fact, the water is translucent, the canoe trips long and pleasant.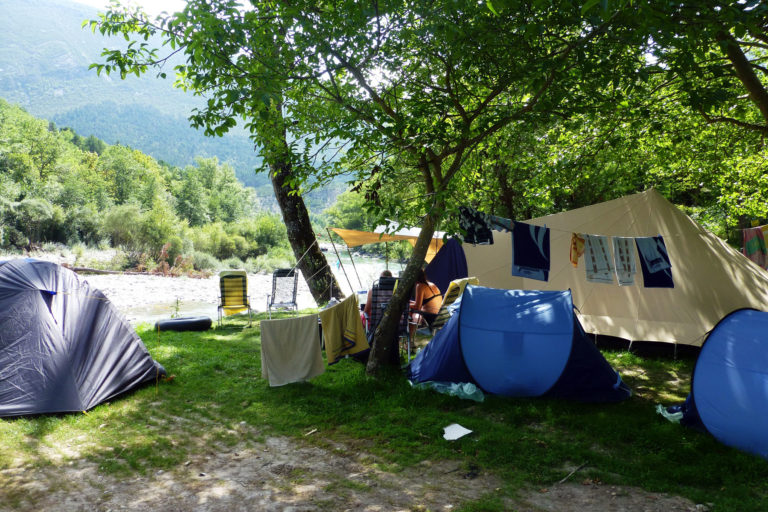 The low Gorges are great for families
For accommodation, you have to look among the very beautiful campsites of Esparron-de-Verdon. Among our favorite campsites, that of La Baume with its treehouses offers comfort and a change of scenery. A little further south in Quinson de Verdon, the Tohapi campsite near Lake Quinson is also an excellent choice. Certainly, the two campsites cited here do not correspond to the image of the campsite with a swimming pool and slide. However, they are very well located, comfortable. Moreover, swimming is not far. As for canoe trips, the area is spoiled for choice. Why not descend the low gorge for nine kilometers between the lakes of Quinson and Esparron de Verdon? Again, Esparron de Verdon, Saint-Laurent, Montagnac Montpezat are privileged places.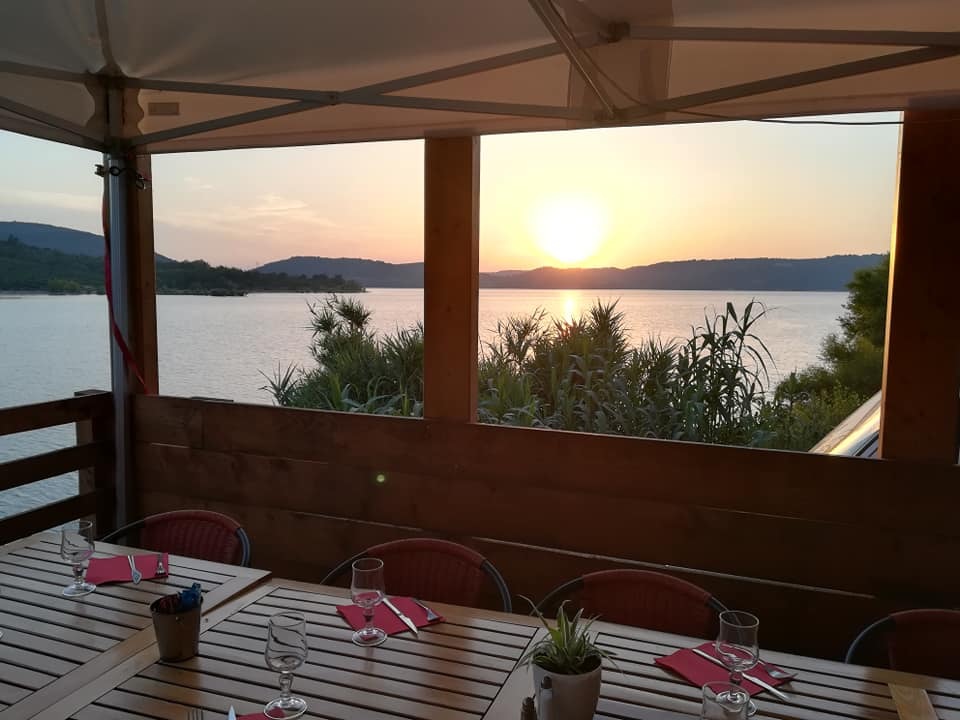 Campsite with swimming pool, small chalets and children's games near swimming places and canoes
Still, in the same area, Le Clos de Barbey campsite in Bauduen is an excellent choice. Indeed, the most beautiful beaches along lake Sainte-Croix are located in Bauduen. Do not think this statement is free! Even the inhabitants of Moustiers-Sainte-Marie recognize it !! To find out more, take a look at our article "the most beautiful beaches in the Verdon". Similarly, our article on campsites will give you more information.
Where to stay if you are more into rafting, canyoning or climbing?
For whitewater activities, you have to get close to the Grand Canyon du Verdon. Most of the accommodation is located on the edge of Verdon between La Palud Sur Verdon and Castellane. You will be based on the edge of the Verdon in a mountainous and cooler area. The rafts will pass just nearby. As for the canyons, you will be spoiled for choice within a 45-minute drive. Finally, climbing and hiking will be on the program with the proximity of the Grand Canyon, Mount Robion or the Chiran range. Beautiful mountains that surround you culminate at an altitude of 2000 meters.
The map below allows a zoom on this area: click here for the interactive map.
The campsites in this sector offer small chalets and are almost all equipped with swimming pools and restaurants. For more information, see our article on Verdon campsites.
Lodging in the Gorges of the Verdon for visits to villages, Provençal markets and lavender fields.
For visits to the most beautiful villages, choose the surroundings of Lake Sainte-Croix. Sainte-Croix de Verdon with its beaches and the proximity of lavender fields is ideal. However, the hotel capacity is rather reduced. The villages of Riez or Gréoux Les Bains can be wise choices. Indeed, these two villages offer many accommodation possibilities.
The lavender plateaus of Valensole are located within a 15-minute drive. The Gréoux markets on Thursday morning or the Riez market on Saturday are among the most important.
An interesting alternative is also Montagnac Montpezat or more precisely Montpezat and its Belambra club. Indeed it allows reconciling visits to lavender fields, Provencal markets and canoe or electric boat.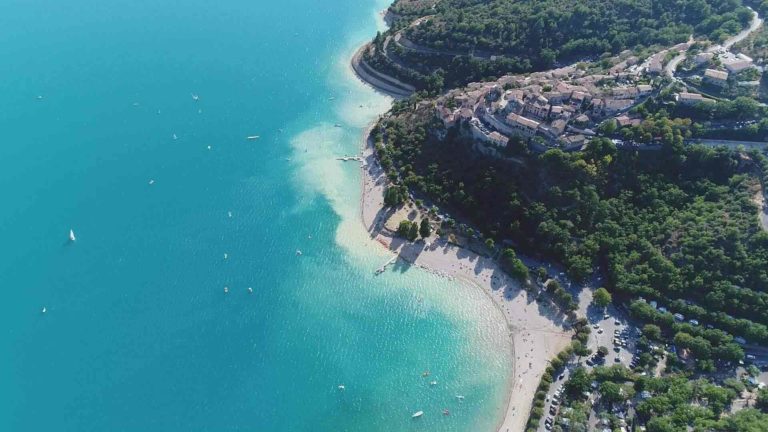 Luxury accommodation in the Verdon: the most beautiful hotels and guesthouses
Great 5 stars hotel close to the lower gorges
For several years now, Le Verdon has had some good places to stay in exceptional places.
Let's start with the "Couvent des Minimes" in Mane. This five-star hotel located near Forcalquier and Manosque is a good starting point for visiting the Verdon Gorges and the Luberon. The only drawback is that you need an hour to reach Moustiers-Sainte-Marie.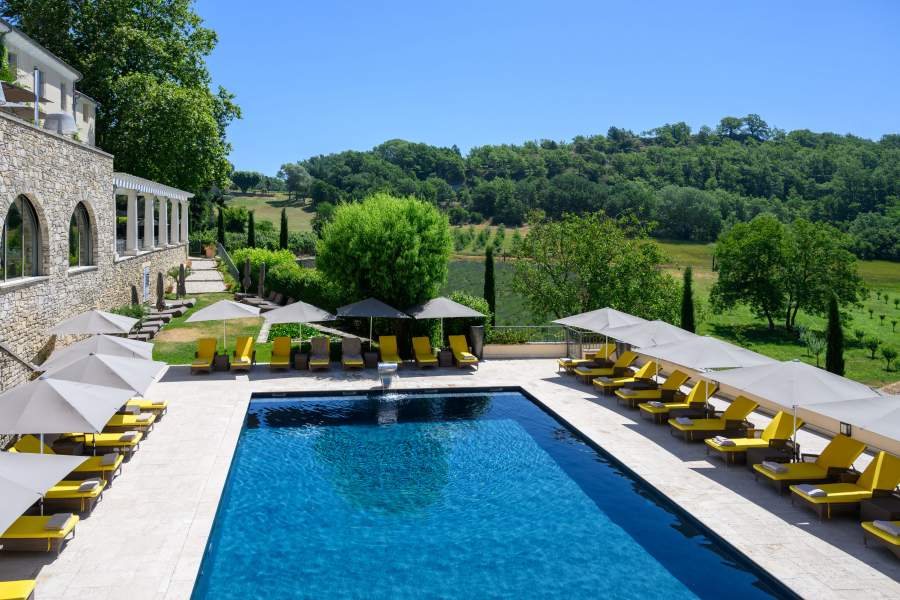 Best inns close to lake Sainte-Croix
Why not choose La Bastide de Moustiers? This inn by Alain Ducasse offers both exceptional accommodation and extraordinary cuisine. From the Bastide, you can explore the lavender fields by electric bike or by minivan with a guide.
On the other side of Lake Sainte-Croix, La Bastide de Calalou will be well suited if you want to combine visits to villages and lavender fields. The Sainte-Croix lake is 20 minutes away and the Baudinard gorges less than a quarter of an hour. Not far away, the magnificent Bastide de Tourtour offers a 4-star setting in a castle. The magnificent village of Tourtour alone is worth the trip for its medieval charm and art galleries.
Luxury accommodation closest to the Grand Canyon
Let us continue our tour of exceptional places with the hotel des gorges du Verdon: spa, terrace with an exceptional view, four-star comfort. This hotel has everything you can imagine except for a very limited capacity. You will need to book early enough.
The Château de Trigance will surprise you and is a charming stopover in a magical place. If you plan to visit the Grand Canyon of Verdon by motorbike or by vintage car, the completely renovated medieval castle is the first choice nevertheless if you only have one night.
The Chateau de Taulane a little further north brings together the best levels of service.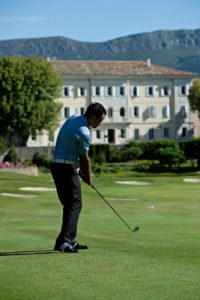 Gorges of the Verdon, where to stay and which activity to choose?
The table below summarizes and simplifies the choices available to you according to the activities you are looking for:
*** ideal place for the activity ** The activity is close * It will take 30 minutes to drive "" it will take 35 minutes to drive 1h30
How to book your activities in the lakes and gorges of the Verdon?
Our website allows you to consult the availability of guides and book your activities. Consult our boat rental, canoeing, canyoning, and rafting pages.
We also offer guided hikes, rock climbing, adventure trails, paragliding or even ULM helicopter tours.
Finally, gastronomic activities are not to be outdone or even cultural activities such as museum visits, cinema on a giant screen or astronomy evenings.