Organizing an outdoor seminar in Provence in the Gorges du Verdon, a flagship destination for nature!
Do you want to boost and stimulate positive interaction between your team members? Are you looking for an unforgettable, disconnected place, with the key words Nature, Evasion, Cohesion? We have THE answer: live a Seminar – Team Building immersed in nature in the Gorges du Verdon!
Passionate about nature and the benefits of outdoor sports, we concoct a tailor-made stay for you and accompany you throughout your getaway to fully live your "timeless" experience and create, or even recreate, real links within your team members.
Our seminars in the Gorges du Verdon are created in your image and adapted to the wishes of your company and your teams. From day trips to multi-day stays, we create unforgettable events with memorable memories, from A to Z.
Our motto? Enthusiasm at the service of escape!
Why Outdoor? To get you "out" of the frame
We are going to bring out innovative behaviors, questioning, bring participants to take a step back. Changing the frame to change your perspective is the basis of the activities we offer. Rafting, canoeing, team orienteering are the ingredients of a successful business seminar, but not only!
The seminar is also the time to discover new talents like artistic talents, qualities of animators, coach. For example, how to create a positive dynamic around a challenge? Identifying the strengths and potential of each is the starting point of any HRD strategy, all while respecting our environment in an eco-responsible way, ideal for your CSR policy! The seminar is a pleasant moment where we meet in another context. But it is also more: let's take the bet that you will discover unsuspected resources in some of your employees.
Ideas ?
We have built for you several programs for successful and innovative business conferences between:
Escape during hikes for all levels, from beginners to confirmed, in the furrows of the Gorges du Verdon or during an electric mountain bike getaway on our most beautiful trails,
Immersion through fun and energizing nautical experiences with canoeing, solo or accompanied, rafting, canonyoning, aqua hiking, etc…
Cohesion with team challenge, a "Kho Lanta" Verdon Express version, or even large format orienteering races: real moments of sharing, community, synergies and above all laughter!
Intellectual and collective stimulation with our cultural workshops in partnership with many players in the area: introduction to astronomy with the local astronomical observatory, visit to the Museum of Prehistory of the Gorges du Verdon, discovery of green treasures with the Regional Natural Park of Verdon as well as black treasures with activities around truffle growing or even the encounter with the emblematic film "Verdon Secret", etc…
ZOOM on our special Team-Building flagship products: between orienteering races, team challenges and outdoor sports activities

Team challenges or the "Kho-Lanta" Verdon Express version
The challenges are real team challenges by the lake with a multitude of fun and stimulating workshops! Canoeing, paddle, maxi-paddle, archery, balancing games or even tug of war games, etc… all enhanced with a dose of strategy and speed, a perfect combo for a challenge raised!
Team orienteering races in the lakes and canyons of the Verdon
Our orienteering races are built around the best recipes to create group dynamics and cohesion, and this, on a large format play area with the discovery of the Verdon and its canyons. An example of program? A mountain biking/canoeing/hiking triathlon in the Baudinard canyon !
The team demonstrates creativity, invents collaborative methods, solicits all energies. Indeed, cultural challenges will also be offered alternating with outdoor activities. We alternate cultural activities, activities calling on the creativity of the participants and outdoor activities. Each talent will be able to express itself within small teams formed and win the orienteering race!
Team Building and outdoor activities to develop team spirit
Magnificent landscapes, verticality, canyons with turquoise water: everything combines to make the Gorges du Verdon an ideal place for an unforgettable Team Building. We organize programs for groups of 10 to 200 people. Our expertise ? Help you develop a team spirit. For this, we will create "teams" in which you will have identified "team leaders". The weight of the group will therefore never be felt throughout the seminar for a shared collective pleasure!
Here are in pictures the ingredients of a successful Seminar – Team Building with Verdon Voyages!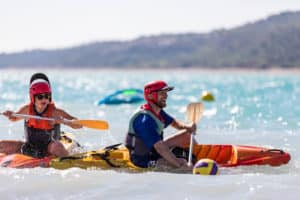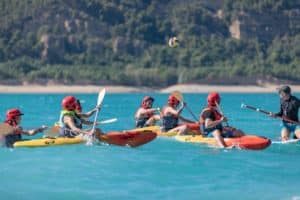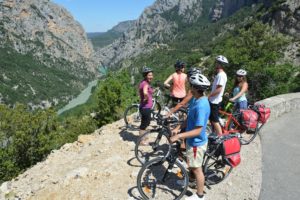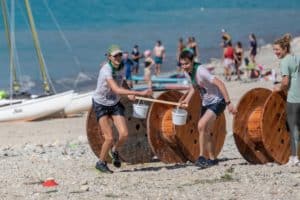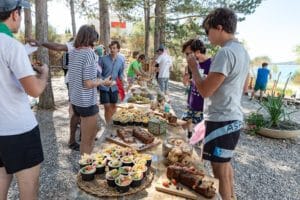 Our business seminar evenings
We "unearth" the most unusual and exceptional places, adapted to your wishes. In the middle of nature on a beach, under the stars during astro-musical evenings or even nestled in prestigious estates with a breathtaking view of the lake "by night", everything is possible in our beautiful Gorges.
A business conference where local gastronomy is in the spotlight
Lunches, picnics and dinners are composed of local products, fresh and local products for a taste and gastronomic discovery in the colors of our Provence: typical dishes of the famous Provencal stew, trout from the Verdon, sheep's yoghurt, by the way by the precious lavender honey, or even our real black gold, the truffle and its variations!
Indeed, a culinary change of scenery based on organic and authentic products is on the program for everyone, for vegetarians and mixed vegans too !
Accommodation for seminars and team building: your base camp in the Gorges du Verdon
We offer several types of outdoor accommodation depending on the size of the group and your objectives, comfort but also sumptuous:
Monastery in the middle of nature: our Monastery formula is one of the most requested. The monastery can accommodate up to 70 people and is located in an idyllic setting. Double or single room. It is also an ideal starting point for orienteering, canoeing and canyoning.
**** Camping chalets: another change of scenery with quality services. The evenings by the pool and the entertainment offered by the lake will make your stay a haven of escape. For groups of up to 200 people, with double or single rooms, two to three bedrooms per chalet.
The castle by the lake: located on the edge of the Sainte-Croix lake, this site welcomes groups of up to 100 people on the principle of shared rooms. It has a restaurant and seminar rooms for coaching activities or plenary meetings. This castle is privatized during the stay. Dinners can be taken on the patio or even on wonderful beaches that we reach on foot.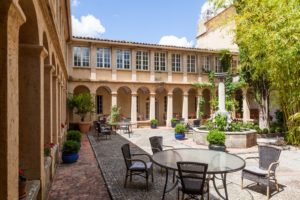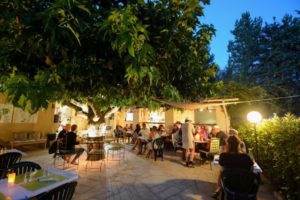 What about seminar rooms?
We can offer you dedicated workspaces, original and conducive to collective emulsion, modular in groups and sub-groups according to needs. If you prefer a more "classic" space, we have a conference center with a capacity of 400 places a few hundred meters from one of our 4-star campsites. Thus, the spaces are imagined for you, in unusual or classic settings, as you choose!
What budget for my business seminar in Provence?
Our budgets include accommodation, catering, outdoor activities and multiple workshops. We offer formulas from 200 euros per person per day. To call us and discuss together, come and discover our Seminar and Team Building proposals: we are at your disposal with a unique and original proposal adapted to your company.
What is our secret to success?
The preparation of the seminar is essential with the help of the HR departments, the communication department or with the management team with whom we compose a program adapted to the wishes of the company.
In fact, we identify with you the themes of your seminar and respect the philosophy of your company so that it can find value in each of the details of the stay. Listening, communication and flexibility are our best ingredients for the success of your seminar.
Behind the scenes, our own enthusiastic and dedicated Verdon Voyages teams are always on hand with passionate guides, all with several European languages ​​to their credit, for your greatest comfort!
Team Building and seminar in Provence: How to reach the Gorges du Verdon?
Where are the Gorges du Verdon located?
The Gorges du Verdon are located between Var and Alpes de Haute-Provence. Indeed, the Verdon Natural Park is very vast and the gorges themselves are nearly 100 km long. Our seminars are located 1h30 from Aix en Provence TGV station, Marseille Provence airport or Nice Côte d'Azur airport.
We therefore organize our programs from Marseille-Provence airport, Nice airport or the Aix en Provence TGV station. In addition, we take care of all transfers by bus or minibus. You will therefore reach the Gorges du Verdon in 90 minutes.
Pourquoi Verdon Voyages ?