Canoe Trip in the Gorges du Verdon
3-day Canoe Trip in the Gorges du Verdon
Canoeing down the Gorges du Verdon is a great classic of the region. In 2021, Verdon Voyages is offering several itinerant stays in this regard. Select your dates of stay and check the guide's availability. Book online and do not hesitate to contact us using the "chat" (bottom right of your screen). You can also leave your contact details on the chat and we will call you back. Consult here the most frequently asked questions about the Canoe Trip in the Gorges du Verdon.

Dates and prices
3 days, 2 nights
Next stays: May 21-23rd 2021, May 28-30th 2021. 
Prices: €330 adults, €280 children (from 7)
Departure is guaranteed from 5 participants.
Payment & cancellation conditions: 
*Payment: 35% of the amount of the stay when booking; balance at D-30 without reminder from us; 
*Cancellation: full refund in the event of cancellation related to Covid-19; withholding of the deposit in the event of cancellation before D-8; no refund in case of cancellation after D-7; cancellation insurance on request. 
You agree to 3 days of canoeing. No partial reimbursement of activity(s) will be made except for medical reasons or if the weather makes activities impossible.
Day by day
Autonomous route with roadbook.
DAY 1 – SAINTE-CROIX LAKE & GRAND CANYON
Meet at Moustiers-Sainte-Marie, classified among the Most Beautiful Villages of France, for a canoeing day to discover the grandiose scenery of Lake Sainte-Croix and the Grand Canyon.
Route distance: 12km
Canoe: 4 – 5h
DAY 2 – CANOE in LES GORGES DE BAUDINARD and the TROIS LACS area
You will travel through the magnificent Trois Lacs sector by canoe: Baudinard gorges, Lac de Cadenon, Lac de Saint-Laurent-du-Verdon and Lac d'Artignosc. After this excursion and a period of free time, you spend the night in a comfortable chalet in the heart of the Alpes-de-Haute-Provence.
Route distance: 16km
Canoe: 5 – 6 hours
DAY 3 – CANOE in LES BASSES GORGES: ESPARRON-DE-VERDON
To end your stay in style, you descend the superb turquoise waters of the Basses Gorges to the magnificent lake of Esparron-de-Verdon.
Route distance: 9km
Canoe: 4 hours
Itinerary
Data Sheet
The price includes
Included
*Lodge accommodation in camping;
*Breakfasts and dinners;
*Shuttles transfer you every day from the place of your excursion to your meeting point;
*Canoe equipment.
Excluded
*Transport for the round trip between the meeting points and the campsite;
*Picnics for midday meals;
*The canoe trip gives you free time each day after the excursion, which you can organize at your convenience.
Questions Answers
Can I go down the Gorges du Verdon by canoe by myself?
The Gorges du Verdon are much more technical than other rivers in France and their descent over several days remains a small adventure. In order to allow everyone to experience this adventure, we offer several options:
– Full descent: 5-day sports trip, from 16 years old;
– Family aquatic descent: 5-day stays from 10 years old;
– Canoe Verdon descent over 3 days from 7 years old.
We offer "all-inclusive" stays: supervision, equipment, accommodation and meals. Each sheet describes in detail the stay and the level required to register. Do not hesitate to contact us.
What is the level required for the aquatic descent of the Gorges du Verdon?
Never go alone: professional support is essential for upper and middle Verdon. For the lower Gorges and the Gorges de Baudinard, we will give you a road book. In all cases, we will take care of the material and logistics for your shipment. Some areas are not navigable because several dams punctuate the Gorges du Verdon. In addition, you do not travel through each section of the Verdon with the same boat: so we will use rafting for the upper Verdon, then descend the Grand Canyon in floating or in packraft. Finally, we will finish by canoe for the Gorges de Baudinard and the Lower Gorges. This is what makes this adventure so charming! Read our descriptions carefully and call us in case of questions. Remember that we offer 3 different routes. Know how to swim and be in good physical shape is compulsory. For 5-day or 3-day family trips, it is necessary to be in good physical shape but no canoeing skills are required. On the other hand, for the full Sports course, prior canoeing experience will be necessary: knowing how to steer, navigate in a straight line, know how to turn right or left.
What accommodation for the aquatic descent or canoe descent of the Gorges du Verdon?
For each stay, we have defined specific dates: see the calendar. You register according to availability. We organize your accommodation in chalets located in campsites with swimming pool, restaurant and natural surroundings near the Verdon. For the 5-day stay, you will stay in two different chalets on two different locations. You can therefore leave your personal belongings and find them in the evening since you will sleep two nights in each chalet. For the canoe trip over three days, you sleep both nights in the same chalet. 
Accommodation in a comfortable chalet surrounded by nature
Accommodation is provided in a double room with a double bed or twin beds. If you are alone, you will therefore share a chalet with people in your group. Each chalet is equipped with two or three bedrooms, a bathroom, a kitchen lounge and a terrace. Your dinners and breakfasts are provided at the campsite restaurant. For more on this, see the Meals and food section.
I want a private chalet or room.
When you register, you ask us for a privatized chalet for your family or friends. In this case, you will not share the accommodation and will have your own chalet. Likewise, you can request a private room. A price supplement corresponds to these two options.
Meals, dinners and breakfasts during your stay?
The campsite restaurant welcomes you for dinners consisting of a single hearty dish and dessert. Alcoholic drinks are not included and can be ordered on site.
How to register? What cancellation conditions?
Registration is done online by paying a deposit of 30% of the amount of the stay. You pay the balance by transfer to Verdon Voyages 35 days at the latest before the date of your stay. If you cancel before 90 days, you will only pay the handling fee of 50 Euros per booking. Between 89 and 8 days, we will retain the value of the deposit. At less than 8 days, the stay will be invoiced.
How to put an option?
The number of places available on each stay is very limited because a guide cannot supervise more than 8 people. You can choose an option and we guarantee your seats for a period of 7 days.
Cancellation insurance and Covid19
We offer cancellation insurance that covers most cases of cancellation and now includes the risks associated with Covid19. If you do not purchase this insurance, our terms and conditions apply. In the particular case of an impossibility due to confinement or a travel ban linked to the Covid, we offer a postponement over a period of 18 months and reimburse you in full at the end of this period if the postponement is impossible.
What security conditions for this stay?
When registering, you confirm your age, fitness and sporting level. The full Sport Trip or the Family Trip includes three different activities. Your guide may judge that you clearly do not have the necessary level to complete the activity. This concerns the first three days for the Sport stay and the first two days for the Family stay. Remember that the 3-day canoe trip is much easier and accessible to everyone. Your guides and Verdon Voyages will provide all the safety equipment and material necessary for the descent. Rafting, PackRaft, Floating and aquatic hiking activities are supervised. For the last part in canoe, we provide you with a Roadbook and you will navigate independently. The guide on this last part is therefore an option.
In case of bad weather or bad conditions to practice the activity?
The activities you are going to undertake depend on the water flow of the Verdon and the weather risks. Verdon Voyages or your guide may therefore decide to cancel or modify part of the activity. These cancellations rarely happen. Likewise, unexpected strong winds may cause the guide to cancel the activity for safety reasons. In this case, we will offer a replacement activity depending on weather conditions or water flow. If, however, no replacement activity is possible, we will compensate part of the price of the stay. This compensation will not, however, exceed 50% of the asking price as accommodation and meals are not refundable.
Live the canoe and rafting experience in the Gorges du Verdon! Discover or rediscover packraft, aquatic hiking and floating. Contact us on 00 33 492 71 01 33 or by using the "chat" at the bottom right.
Place an option
The number of places available on each stay is very limited because a guide cannot supervise more than 8 people.
You can set an option by clicking on this link and filling out the form.
We guarantee your seats for a period of 7 days.
Prices: €330 adults, €280 children (from 7)
Next departure: May, 21st 2021
Duration: 3 days
Level of difficulty: Easy 
YOU CAN SET AN OPTION AND ASK TO RECEIVE THE DATA SHEET BY CLICKING ON THE GREEN BUTTON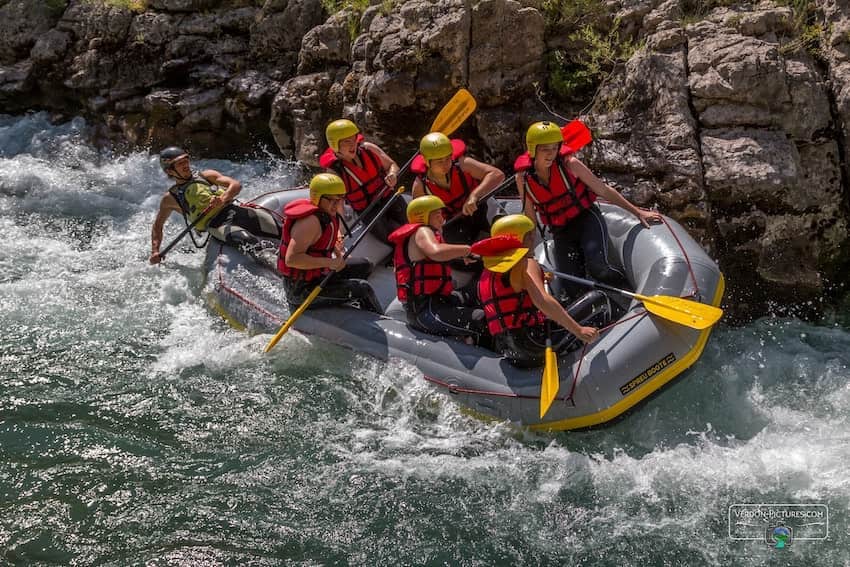 Rafting, packraft, aquatic hiking, floating and canoeing: vary the activities on water to descend the Gorges du Verdon in an exceptional natural setting and a sporty atmosphere!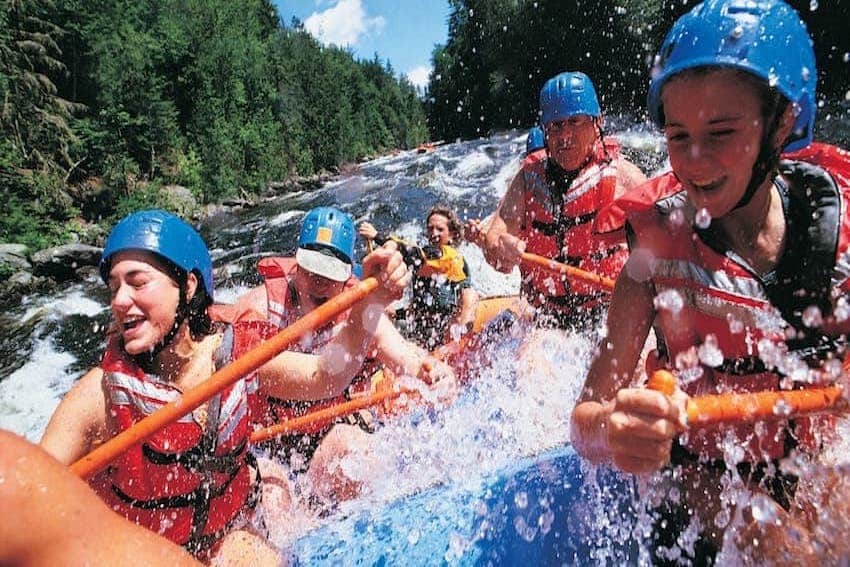 Rafting, aquatic hiking and canoeing: vary the activities on water to descend the Gorges du Verdon in an exceptional natural setting and a family atmosphere!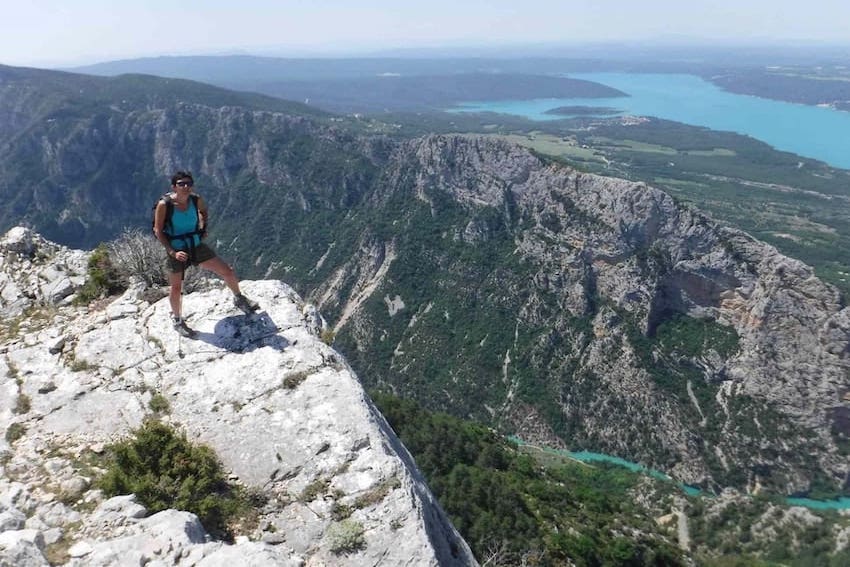 Spend 5 days hiking through the Gorges du the Verdon with their incredible emerald green color...... Take a trek through its spectacular canyons and the exceptional reliefs of the Regional Natural Park.